A Touch of Clay Party Packages
We are able to run small group workshops for 6 people (rule of 6) Each person will have their own individual pack containing everything they need to create their masterpiece, materials, paints, tools, etc, without the need to share. This applies to all parties in our range.
Please call for more details of how we can operate as lockdown is easing.
We have a wide range of party packages available to book: from children's birthday parties, adult parties, anniversary celebrations and more! Pick your perfect party with one of our offerings below, and get in touch to book it in!
Make your child's day complete with a pottery painting party! Adults don't have to miss out either. Ideal for hen parties, special occasions or just some chill out time. At the present time we can accommodate groups up to 6 people.
Give us a call to book your party now.
We have a range of specially bought in ware to choose from or better still, why not have a look at our unique range made in the studio by resident artist and proprietor, Jackie Topping.
Competitively priced against the mass moulded range, there are many items to choose from.
As these pieces are hand made in the studio, they are not available anywhere else.
Pop in to the studio and see what's on offer!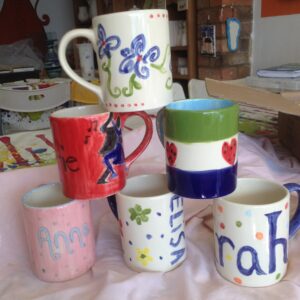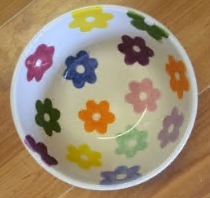 We have 3 studio packages at the moment on offer. You will require an hour for each package.
We feel it is advisable in the present climate not to provide party food although if you feel it is acceptable you are welcome bring cup cakes
Paint animals up to 6 persons  £80
Mugs or plates  up to 6 person £90
Fairy houses up to 6 persons      £100
                                   Celebrate your child's birthday with a 'make with clay' pottery party.    Due to the present situation we are happy to run clay parties for up to 6 children so we can abide by the social distancing rules. (See below)
From the simple to the exotic, children from the age of 5 can experience the fun of clay by having a 'fun with clay' pottery party.
Children experience the use of clay and once the pieces have been created they add coloured decoration to their work. It is then left at the studio for firing and glazing and is ready approx 2 weeks later.
The birthday person makes a choice in advance of the party.
For the little ones we make simple shapes and for older children we can build on those simple ideas, allowing them freedom to express themselves whilst guiding them on the techniques.
Whatever the age and ability everyone produces a masterpiece to be proud of.
Parties can be arranged for Saturdays, after school and school holidays
1.5 hrs making and painting £120 for up to 6 children (sole use of the studio to enable social distancing).  A Hand made ceramic party gift is available to order for each guest to take home at a cost of £2.50 presented in an organza bag.
We recommend that you do not provide food in the current climate although you are very welcome to bring cake and sing happy birthday.
Give us a call to enquire further or book!
Mosaic parties are not available at present due to covid
Mosaicing is an ancient art dating back to Greek and Roman times. It consists of small pieces of coloured components stuck to a pre-drawn board to produce a design. Once the glue is dry the gaps between the pieces are grouted to produce a final piece of work.
At A Touch of Clay you can try your hand at making your own mosaic with a Mosaic Making Party!
Mosaicing is very easy and there are pre-drawn boards at the studio for you to work from or you can bring your own design to transfer onto a blank board.
Give us a call now to book your party!
Birthday person chooses a theme in advance and a board is then designed by the children and adjusted where necessary by Jackie before the children add the mosaics. The mosaics are square but occasionally pieces may need to be cut into other shapes which is done by adults at the studio. Dads can also join in by cutting pieces.
The mosaics are left at the studio for grouting and can be collected 3 days later.
A party will require approx 2 hours and the cost is £120 for up to 6 per persons which includes all materials, use of studio, instruction, grouting and finishing off.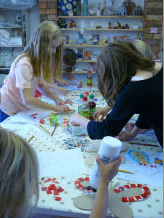 Throw a pot on the wheel party
Not presently available due to Covid.
Throw a pot children birthday parties
For a party with a difference throw a pot on the wheel.
Up to 5 children. £180. suitable for age 9+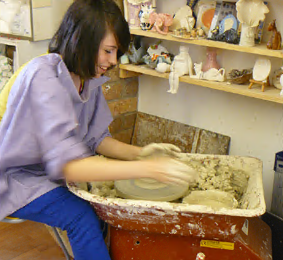 Each person will individually have a go at throwing a pot with help, whilst the other members of the group are making a small creative masterpiece by hand. Once finished everything is painted at the same session.
Duration approx 2.5  hours.
Everyone is assured of making a pot to be proud of before they leave.
 All work is glazed and fired and ready in approx 3 weeks.
Throw a pot adult parties

A chance for small groups to get together and have an evening with a difference.
Have a go at throwing a pot on the wheel. No experience necessary.
Groups of up to 6 people can come to the studio for an afternoon or evening. The studio is open for the group only.Each person will have a go at throwing a pot with help. While others are awaiting their turn they can make a small hand made piece. Painting can be done at the end of the making stage. There is no need for them to dry before painting.
Drink and nibbles can be brought in.
Afternoon rate £240 for up to 6 people for 3 hours.
Evening rate £270 for up to 6 people for 3 hours.
Work ready for collection after approx 3 weeks.
Anniversary evenings
Celebrate your 9th/10th anniversary by throwing a pot on the wheel.
Private tuition. Bring your champagne.
£100 for two people for 2 hours.
Give us a call to book any of these party variants.
Jewellery parties - Age 7+
Notpresently available due to Covid.
Necklaces, brooches, bracelets,pendants, bag charms and lots more can be made at one of our jewellery parties.
Either make a set of jewellery in studio choosing from our ready made range of glass, silver and ceramic beads, many of which are hand made at the studio and therefore unique, discovering simple but effective ways of stringing, fastening etc.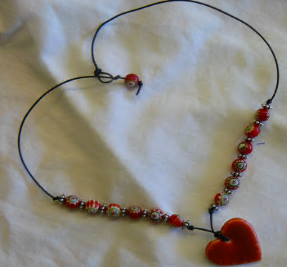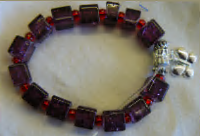 Or if you prefer make your own pieces using clay which are then decorated with our unique sparkle glazes or your own designs and left at the studio for firing.
At the party you choose a range of glass beads, findings etc to complete your pieces which you  take with you. The clay pieces are fired and returned to you a few days later so that you can add them to your kit. Alternatively the pieces can all be left at the studio and made up for you ready to collect.
Suitable for Age 7 +.
Whichever party you choose:
£15 p.p. Make three pieces. 2 hours. Min £150
Food can also be brought in if required.(Extra 30 mins allowed for food).
Call and book now!
Call Jackie on 07796878371 or fill out our enquiry form