Welcome to our workshops
We are excited to be able to re open for some sessions from April 12th. See below what we can do and when we can start to run further sessions. We are hoping to run a few childrens wheel workshops based on the pottery throwdown show. If interested ask to be put on the mailing list.
We can provide pottery painting packs fo you to do at home.  we can deliver pieces to you and collect once painted. Lots of options. Mugs £15, Plates from £13.50, Teapot from £25, Bowls £15, animals £13.50, Fairy houses from £16.50, coasters from £8 and lots more besides. Just call us if you have any specific requirements.
See our shop for some of the more popular options. Then order by phone 07796878371.
Fun with clay in the studio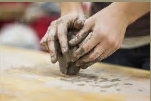 We are hoping to resume our hand building clay sessions on May 17th
We are limiting number in the studio at any one time.Choose your simple theme and, with guidance at a safe distance from Jackie, create your masterpiece. Add decoration and leave it with us for firing and glazing. Ready for collection within 3 weeks.
Pottery painting in studio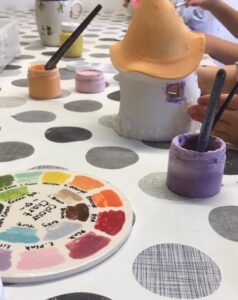 From April 12th we can allow pre booked sessions of just one household at a time
Book your 60 minute slot. We are limiting numbers, within government guidelines in the studio to provide a safe environment. Choose your piece which will be brought to your workstation along with a choice of colours and brushes for your individual use. Lots to choose from including animals, which are a children's favourite, mugs and plates; prices start from £13.50
Work is left in the studio for glazing and firing and is ready within 2 weeks.

We are hoping to recommence our throw a pot sessions from May 17th
Our private sessions for one or two people must be prebooked. private 'Throw a pot' sessions on Saturday mornings at 10am as soon as we are able.
The cost is £40 per person and is not suitable for children under the age of 9.
We will be running group sessions for mosaic making during the summer for both adults and children.
If you are interested let us know and we will put you on the mailing list,
See bookable activities for full details