Welcome to our workshops
All sessions must be pre-booked
There is a lot to choose from so have a browse by clicking the drop down options below and then give us a call/text/email to enquire or book. 07796878371
Half term Holiday programme
Next holiday workshop February half term All ages. Children and adults.
POTTERY PAINTING - just call to book any day and  pay for what you paint. £13.50 - £16.50 per item.
MOSAICS - Friday 10.30 -12.00
Design your own coasters.
Learn the art of mosaics.  Decorate two blank squares per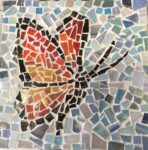 person with small mosaic tiles to create your own coasters. (Good Mothers Day presents).
You will produce your own simple design on paper and then transfer it onto a blank wooden board (10m x 2) with transfer paper. The coloured tiles are then glued onto board. Tiles require grouting once glue is dry, which can be done at  the studio, ready to collect two days later. (or you can take a bag of grout with instructions and do it yourself at home).
Pre booking required. £15 per person
CREATE WITH CLAY- Tues 2-4 pm or Thurs 2-4 pm.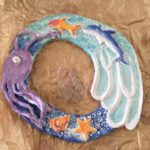 At this session you will be shown some simple pottery techniques to enable you to design and create your masterpiece. This session is for children and adults.
THEMES
Tues - under the sea.
Thurs - In the jungle
Pre booking required. £17.50 per maker
Please note During busy times we cannot guarantee non makers/painters a seat.
HANDBUILD WITH CLAY in the studio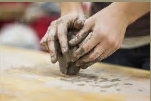 Hand building taster session
For individuals and groups
CHILDREN
A short  90 minute session which enables children to experience clay using simple techniques which will be demonstrated at the start. Pieces can be painted at the same session. Book a time. £20. Includes tuition, materials and firing. Leave at the studio to be ready 2 weeks later.
CHILDREN AND ADULTS
A 3 hour workshop where you will learn some basic pottery techniques before choosing the piece(s) you wish to make.
Create your masterpiece with guidance. Add decoration and leave it with us for firing and glazing. Ready for collection within 3 weeks. Pre booking required.
£45 per person Sat 19th Feb 2-5pm book now. Max 6 spaces
THROW A POT taster experience

'Throw a pot' sessions for one or two people.on Saturday mornings at 10.30 am.(other times may be available depending on other sessions running during the day/week)Not suitable for under 10 years old
This is a prebooked private lesson  where you will be shown how to centre the clay and then mould it into shape before taking it off the wheel and decorating/painting it. You will be given lots of ideas and full guidance throughout the throwing process.
Your pot is left at the studio for glazing and firing and can then collected or we can send it to you for an additional charge. Usually 3-4 weeks.
Allow up to 90 mins for one person or 2.5 hours for two people.
£45 p.p.      Book now
family or small group CREATE WITH CLAY workshop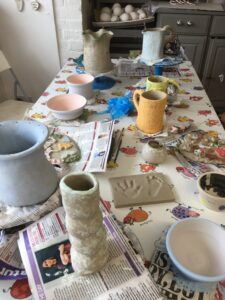 You've watched the Great Pottery Throw Down and you say 'I would like to have a go at that.' Well look no further. You can at A Touch of Clay. Read on.
This is a private group of 4 for family or friends to  get together session with sole use of studio for the duration of the workshop.
You require absolutely no experience as guidance is given all the way. It consists of a handbuilding section and a throw a pot section for each family or group member.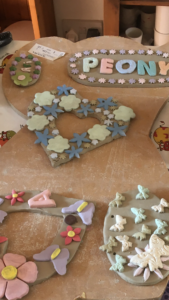 How it works:
Handbuild
Firstly we demonstrate how to prepare  clay and some basic handbuilding skills. Once mastered you  are on your way to producing your creation.  There is lots of inspiration at the studio or you can bring your own ideas.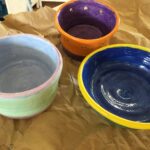 Wheel
Each individual works separately on the wheel whilst the others are creating  their handbuild. We will work with you to centre the clay and mould the pot. Once you have made your pot you return to carry on with your handbuild.
Once all the creations are finished coloured decoration can be added at the same session.
Work is left with us for around 4 weeks to dry, bisque fire, glaze and second fire.
It can then be collected or we can post it to you at additional cost.
Cost £240 for up to 4 people taking up to 5 hours. Includes tuition, materials. paints, Tea, Nespresso and squash.
You are welcome to bring a snack or nibbles in case you get peckish.  To book your slot Call or text 07796878371
Pottery painting in studio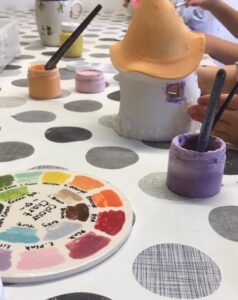 Book your  slot. Choose your piece and paint away. Lots to choose from including animals, which are a children's favourite, mugs and plates; prices start from £13.50. Fairy house illustrated £16.50
Work is left in the studio for glazing and firing and is ready within 2 weeks.
We can provide pottery painting packs for you to do at home.  Lots of options. Mugs £16.50, Plates from £13.50, Teapot from £25, Bowls £15, animals £13.50, Fairy houses from £16.50, coasters from £8 and lots more besides. Comes complete with brushes and set of paints.Just call us to arrange or visit our on line shop to order on line and collect from our studio
If you are interested let us know and we will put you on the mailing list,