Our school holiday offerings
Next holiday workshops Easter All ages. Children and adults.
POTTERY PAINTING - just call to book any day and  pay for what you paint. £13.50 - £16.50 per item.
MOSAICS - Friday 10.30 -12.00
Design your own coasters.
Learn the art of mosaics.  Decorate two blank squares per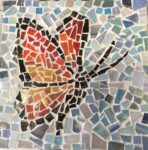 person with small mosaic tiles to create your own coasters. (Good Mothers Day presents).
You will produce your own simple design on paper and then transfer it onto a blank wooden board (10m x 2) with transfer paper. The tiles are then glued onto board. Tiles require grouting once glue is dry, which can be done at  the studio, ready to collect two days later. (or you can take a bag of grout with instructions and do it yourself at home).
Pre booking required. £15 per person
CREATE WITH CLAY- Tues 2-4 pm or Thurs 2-4 pm.
At this session you will be shown some simple pottery techniques to enable you to create your masterpiece. This session is for children and adults.
THEMES
Tues  April 5th - create your own easter goodies in clay
Thurs April 7th -
Tues April 12th April
Pre booking required. £17.50 per maker
Please note During busy times we cannot guarantee non makers/painters a seat.
Payment required for clay sessions when booking
Children and adults can make/paint.
Pottery Painting - all ages.
Book a  slot by calling  and pay for what you paint from £13.50 per person.
Lots to choose from.
(illustrated BOWL £15)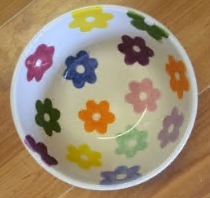 Make a mosaic - from age 9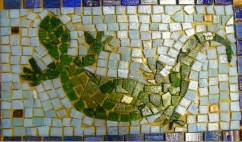 Mosaics are small pieces of glass which sometimes need to be cut with tile snippers. It is not recommend  for children under 9.
A private one to one session for one or two people.
£45 per person.
Unfortunately this is not suitable for children under 10 years of age.
Make sure you dress for mess!
There are also throw a pot days where individuals or small groups can pre-book a time to have a go on the wheel. These sessions are one to one with the teacher whilst the rest of the group watch. No one leaves without making a pot. Allow approx 30 mins per person. Phone for availability
Alternatively, why not use our contact form