Our school holiday offerings
PLEASE NOTE due to the constraints of covid we are unable to run our usual clay and mosaic workshops, detailed below, until further notice. We are however able to deliver prepaid pottery kits for you to paint at home.Call 07796878371 to arrange. .
Call us to book your slot.
The studio will not be open before the commencement of the session due to setting up time required.
Payment required for clay sessions when booking.
Children and adults can make/paint.
We cannot guarantee seating for non makers/painters during busy periods.
Pottery Painting - all ages.
Book a 60 min slot by calling  and pay for what you paint from £13 per person.
Lots to choose from.
(illustrated BOWL £15)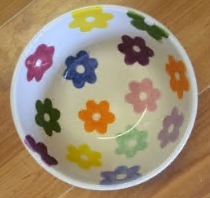 Not available  at half term this year.
Make a creation of your choice with clay and paint it before you leave.
Masterpieces will be fired and glazed ready collect 2/3 weeks later.
Make a mosaic - from age 9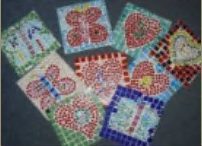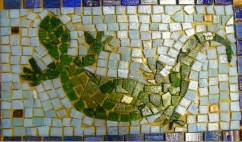 Not available during October half term this year due to covid
A private one to one session for one or two people.
£40 per person.
Unfortunately this is not suitable for children under 9 years of age.
Make sure you dress for mess!
There are also throw a pot days where individuals or small groups can pre-book a time to have a go on the wheel. These sessions are one to one with the teacher whilst the rest of the group watch. No one leaves without making a pot. Allow approx 30 mins per person. Phone for availability
Alternatively, why not use our contact form